CALENDAR of AAFA New England
Events, Programs, Support Groups

Join our e-mail list to receive announcements about programs and events. See box at right.
Check back at this website  or join our e-mail list (see form at right) to receive announcements about future programs. Here are some of the recent events of the previous season:
AAFA New England Speaker Series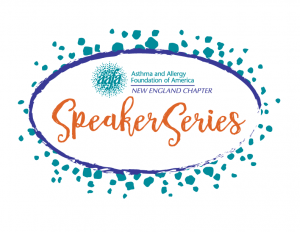 "Caring for Someone with Asthma," Tuesday, May 14, 2020, 2:00–3:00 PM, online via Zoom
Presented by Arnita Roberts-Christie, RN, BSN, MS, Patient Engagement Liaison at GlaxoSmithKline who will be joined for questions and answers by Lisa Bartnikas, MD, attending physician in Allergy/Immunology at Children's Hospital and Instructor in Pediatrics at Harvard Medical School. Register here>
Seminar Outline:
Who is a Caregiver? You Play a Key Role
Asthma Attacks: What You Can Do
Care for Yourself
What's Next?
——–
"You Deserve the Truth About Vaping," Tuesday, May 27, 2020, 7:00–8:00 PM, online via Zoom
Presented by AAFA New England in collaboration with Improbable Players
About this presentation: Improbable Players, a troupe of actors — themselves recovering from addictions — will showcase "scenes" designed to resonate with middle and high school students who are experimenting with vaping or who may be considering vaping. A must-see program designed to gain knowledge of vaping facts, detect vaping behaviors, learn how to approach youth if these behaviors are suspected, and engage with them to set next steps and expectations. Following the presentation of several scenes where the actors will play roles related to vaping behaviors and use, a panel of experts assembled by AAFA New England will be available to take questions from the live, virtual audience. Register here>
——–
"Advancements in Atopic Dermatitis: What Does this Mean for Your Practice?," Tuesday, March 31, 2020, 6:00–7:00 PM. Check back soon to view a recording of the webinar. Presented by Maryanne Senna, MD, Assistant Professor of Dermatology, Harvard Medical School
Learning Objectives:
Differentiate AD from other conditions and among various age groups in a timely manner
Choose appropriate AD therapy on the basis of mechanism and key clinical trial data
Address comorbidities when planning AD care
——–
"Supporting Children with Food Allergies at School: Strategies to Promote Safety, Inclusion, and Confidence," Wednesday, February 26, 7:00 – 8:00 p.m., Newton-Wellesley Hospital or via Facebook Live. Presented by Jennifer LeBovidge, PhD, Psychologist in the Food Allergy Program at Boston Children's Hospital and Assistant Professor in Psychology at Harvard Medical School and Michael Pistiner, MD, MMSc, Director of Food Allergy Advocacy, Education and Prevention, MassGeneral Hospital for Children, Food Allergy Center
About: Two experts in the field will present information and strategies to keep children safe, support social inclusion, and promote positive coping with food allergy in the school setting. Q&A will follow.
All Speaker Series events open to the public without charge. To register for the speaker series, fill out the online RSVP, call AAFA New England at 781-444-7778 or email us at events@aafane.org.
See all past Speaker Series recordings>
——–
EDUCATIONAL SUPPORT GROUPS
Join our e-mail list (see form at right) to receive announcements. 
Support groups take a break over the summer months, but we are still here to assist you. Contact us at aafane@aafane.org or call 781-444-7778.
For information about topics, speakers, and locations visit the Educational Support Groups Page of this website.
——–
FAMILY "Meet-Ups"
Contact us with your ideas and suggestions, or to volunteer to help plan family events.
How about an afternoon of bowling or a softball game in the park?
Let us know if you can help organize or publicize a food-free family gathering. (Call 781-444-7778 or email aafane@aafane.org.)
——–
FOR LIFE WITHOUT LIMITS F

AL

L GALA
Friday, October 25, 2019
We celebrated AAFA New England's 40th Anniversary and honored three champions of the asthma and allergy community! Check out the photos from the event.
——–
Saturday, October 26, 2019
Kyle Dine is a performer and educator who writes and performs songs that empower, support and educate children with food allergies, their parents and friends. He joined us for a family concert and food allergy expo just in time for Halloween.
——–
TRAINING PROGRAMS
Asthma and Allergy Essentials for Child Care Providers and Parents
Check back for new programs to be announced.
For information about the training program, or to schedule a workshop in your area, call 781-444-7778 or email aafane@aafane.org
Check back at this website  or join our e-mail list (see form at right) to receive announcements about future programs.