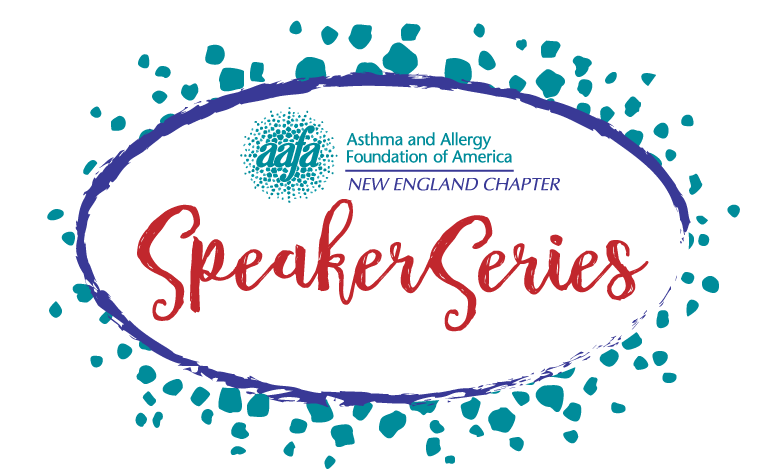 The  AAFA New England Speaker Series is one of the ways AAFA New England helps educate people in the community. By offering informational talks by experts in the field on various topics, we are able to provide our membership and the community up-to-date information and asthma and allergy management tools. Funded by grants and donations, AAFA New England is able to offer free programs like this to the people of all six New England states who live with asthma and allergies – helping them to live fuller, healthier lives.
To register for the speaker series, fill out the form online, email us at events@aafane.org, or call AAFA New England at 781-444-7778.
"COVID-19 and the Physical and Emotional Effects on the Asthma and Allergy Community" webinar, Thursday, October 22th, 7:00 – 8:00 p.m. Presented by: Jennifer LeBovidge PhD, Attending Psychologist, Division of Immunology, Children's Hospital, Assistant Professor of Psychology, Harvard Medical School and Michael Pistiner, MD, MMSc, MassGeneral Hospital for Children, Director of Food Allergy Advocacy, Education and Prevention, Food Allergy Center, and Tregony Simoneau MD, Assistant in Medicine, Division of Pulmonary Medicine at Boston Children's Hospital. Watch the video here.
——————————————
"Asthma Goal Series: The Asthma Action Plan" webinar, Thursday, September 24, 2020 at 7:00 – 8:00p.m. Event Outline: Asthma Basics; What is an Asthma Action Plan; Why is it important; Asthma Action Plan Zones; Next Steps; and Take Action. Presented by Arnita Roberts-Christie, RN, BSN, MS, Patient Engagement Liaison GlaxoSmithKline.
——————————————
"No Biggie Bunch" Virtual Storytime. Presented by Heather Mehra, co-author of the No Biggie Bunch book series for pre-school and early elementary audiences. Heather Mehra is the mother of three No Biggie Bunch inspirations. She and co-creator, Kerry McManama, wrote these stories to act as springboards for food allergy conversations among children, parents, teachers, friends and family members. Heather was joined by Michael Pistiner, MD, MMSc, Director of Food Allergy Advocacy, Education and Prevention, MassGeneral Hospital for Children, Food Allergy Center. Watch the video here.
——————————————
"You Deserve the Truth About Vaping," Tuesday, May 27, 2020, 7:00–8:00 p.m., online via Zoom
Presented by AAFA New England in collaboration with Improbable Players
About this presentation: Improbable Players, a troupe of actors — themselves recovering from addictions —  showcased "scenes" designed to resonate with middle and high school students who are experimenting with vaping or who may be considering vaping. A designed to gain knowledge of vaping facts, detect vaping behaviors, learn how to approach youth if these behaviors are suspected, and engage with them to set next steps and expectations. Following the presentation of several scenes where the actors played roles related to vaping behaviors and use, a panel of experts assembled by AAFA New England answered questions from the audience.  Watch the recording.
——————————————
Kyle Dine "At Home, too!" Family Concert. Saturday, May 16, 2020, 11:00 a.m.–noon, online via Zoom
Kyle Dine performed songs that empower, support and educate children with food allergies. Kyle Dine is an internationally known singer/songwriter and a food allergic individual who has turned his diagnosis into positive impacts for the food allergy community. Watch the concert.
——————————————
"Caring for Someone with Asthma," Tuesday, May 14, 2020, 2:00–3:00 PM, online via Zoom
Presented by Arnita Roberts-Christie, RN, BSN, MS, Patient Engagement Liaison at GlaxoSmithKline who was joined for a Q&A with  Lisa Bartnikas, MD, attending physician in Allergy/Immunology at Children's Hospital and Instructor in Pediatrics at Harvard Medical School
Seminar Outline:
Who is a Caregiver? You Play a Key Role
Asthma Attacks: What You Can Do
Care for Yourself
What's Next?
——————————————
"Advancements in Atopic Dermatitis: What Does this Mean for Your Practice?," Tuesday, March 31, 2020, 6:00–7:00 PM. Presented by Maryanne Senna, MD, Assistant Professor of Dermatology, Harvard Medical School
Learning Objectives:
Differentiate AD from other conditions and among various age groups in a timely manner
Choose appropriate AD therapy on the basis of mechanism and key clinical trial data
Address comorbidities when planning AD care
——————————————
"Living with Allergic Disease: The Role of specific IgE"
Presented by Lakiea Wright, MD, MAT, MPH, US Medical Director of Clinical Affairs, Immuno Diagnostics, Thermo Fisher Scientific
About: Watch presentation online to learn the role of specific immunoglobulin E (IgE) in allergic disease, including asthma, environmental allergies, and food allergies. We'll also discuss specific IgE blood testing, including the latest advances in molecular diagnostics, a.k.a. allergen component testing
——————————————
"Digital Health and Patient Engagement" Panel Discussion
Presented by Jyotsna Mehta, founder of Keva Health; Dr. Dhrumil Shah, CIO, Compass Medical; and David Guydan, Executive Director, AAFA New England
About: Watch presentation online to learn about the importance of digital health and how patients can engage with tools such as smartphones and smart devices that make it possible to collect data securely at any time and providing real-time feedback. The importance of digital platforms to providers and payers is also discussed.
——————————————
"Asthma Basics: When to Pay Close Attention; When to Start to Worry"
Presented by Beth Klements, MS, PPCNP-BC, AE-C, Asthma Clinical Nurse
About: Watch presentation online for an overview of asthma, and what parents should know. The presentation covers the definition of asthma, what triggers it, medications, and what else to do to control it.
——————————————
"Flying with Food Allergies: Planning Summer Travel"
Presented by Laurel Francoeur, Attorney, Francoeur Law
About: Watch presentation online to learn about the rights of passengers with food allergies while flying; how to fly safely with allergies; how allergic reactions are handled in the air; and what you can do to minimize your chance of having an in-flight reaction.