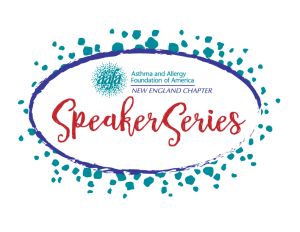 The newly created AAFA New England Speaker Series is one of the ways AAFA New England helps educate people in the community. By offering informational talks by experts in the field on various topics, we are able to provide our membership and the community up to date information and asthma and allergy management tools. Funded by grants and donations, AAFA New England is able to offer free programs like this to the people of all six New England states who live with asthma and allergies – helping them to live fuller, healthier lives.
To register for the speaker series, fill out the form online, email us at events@aafane.org, or call AAFA New England at 781-444-7778.
"Asthma and Allergies: The Role of Specific IgE Testing and What You Need to Know"
Tuesday, October 8, 2019, 7:00 p.m. to 8:00 p.m.
AAFA New England Office
25 Braintree Hill Office Park, Suite 200, Braintree, MA
and streamed live on Facebook.
Beth Klements, MS, PPCNP-BC, AE-C, Asthma Clinical Nurse
Boston Children's Hospital
"Asthma Basics: When to Pay Close Attention; When to Start to Worry"
Tuesday, May 28, 2019, 6:30 – 7:30 p.m.
Boston Children's at Waltham, Deverber Room
9 Hope Ave., Waltham, MA
Watch presentation online to learn about the importance of digital health and how patients can engage with tools such as smartphones and smart devices that make it possible to collect data securely at any time and providing real-time feedback. The importance of digital platforms to providers and payers is also discussed.
———————–
Jyotsna Mehta, Founder, Keva Health
"Digital Health and Patient Engagement"
moderated panel discussion and webinar
Wednesday, June 19, 2019, 7:00 – 8:00 p.m.
AAFA New England Office
25 Braintree Hill Office Park, Suite 200, Braintree, MA
Watch presentation online to learn about the importance of digital health and how patients can engage with tools such as smartphones and smart devices that make it possible to collect data securely at any time and providing real-time feedback. The importance of digital platforms to providers and payers is also discussed.
———————–
Laurel Francoeur, Attorney, Francoeur Law
"Flying with Food Allergies: Planning Summer Travel"
Watch presentation online>
Do you have an interest in hearing someone speak? What topics are you interested in? Are there locations you would travel to? Let us know!! Contact: events@aafane.org