WELCOME
AAFA's New England Chapter serves the six New England states: Connecticut, Maine, Massachusetts, New Hampshire, Rhode Island and Vermont. Since 1979, we have assisted thousands with asthma and allergies to live safer, healthier lives in many ways. We help adult patients and parents learn how to manage their asthma and allergies, including food allergies, in many settings. We train childcare providers, nurses and respiratory therapists; publish a newsletter and other educational materials; and provide telephone support and information to individuals and agencies. We work in communities and with the media to raise awareness about the seriousness of life-threatening allergies and asthma, and advocate for policies to  support and improve the lives of people with asthma and allergies.  Let us know how we can help YOU!
Help us Help YOU!
As you make your donations to organizations that mean a lot to you, please include AAFA New England on your list. Help ensure that we can continue to provide the information, educational programs, and advocacy that saves lives and helps you meet the challenges of living with asthma and allergies.
Donate on-line now, or print a form to mail with your check.
PROGRAMS & EVENTS
Regional Forum:
"Traditional Chinese Medicine for Food Allergy, Asthma, and Eczema: A Research Update"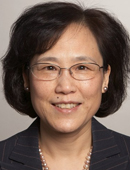 Meet Dr. Xiu-Min Li, MD, a renowned pioneer in the scientific study of complementary and alternative medicine for allergic disorders. She will discuss her research and answer your questions.
Tuesday, May 3 at 7:00 p.m.
Newton-Wellesley Hospital
2014 Washington St. (Route 16)
Newton, MA
Free; no tickets required
click here for a flyer to post and share
---
Asthma and Allergy Essentials for Child Care Providers
Four training workshops for child care providers are scheduled in May during  "Asthma and Allergy Awareness Month." Click here for details
---
Educational Support Group Programs
Provide you with opportunities to learn from experts, get your questions answered, meet others who share your concerns, find resources and gain confidence.
Click here for locations, dates and topics, and more details…
Fill out the form at the right to make sure you are on our e-mail list to receive meeting announcements for your area.
---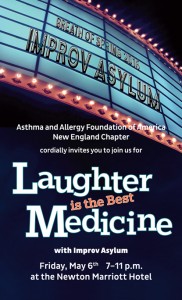 "Breath of Spring 2016" FUN-raiser
with a comedy performance by Improv Asylum
Friday, May 6, 2016
Newton Marriott Hotel
Newton, MA
---

Family Events
Summer Family Baseball Outings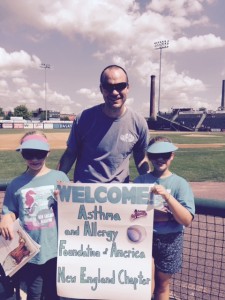 Families had a great time enjoying a "meet-up"with others at "peanut allergy friendly" games at the Pawtucket Red Sox and Lowell Spinners.
What does your family enjoy doing?
Can you help plan other family events?
Call or e-mail us to get involved!
---
Training for Child Care Providers
Asthma and Allergy Essentials for Child Care Providers
click here for more information about our training program for child care providers

Announcing: (click here for a flyer with details)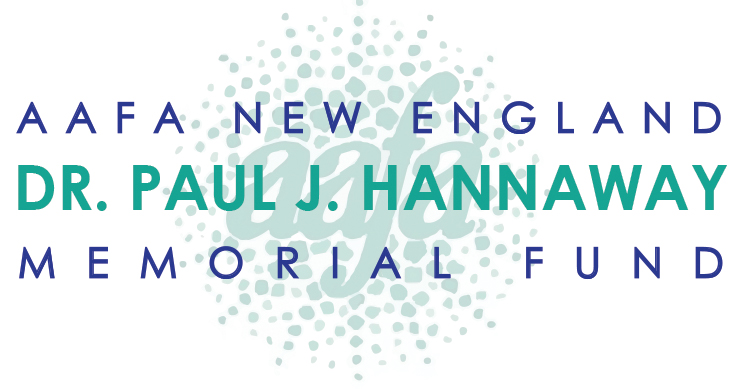 Read our newsletter!
Click here to have a look at back issues. 
Become a member to receive your own copy when it is published.
Professional members receive a supply of copies to give to patients.

Join our e-mail list  to receive e-mail announcements about news and resources, as well as upcoming AAFA New England meetings and programs.  Fill out the form at the right or send us your e-mail address and tell us where you live, so we can let you know about events in your area. We will not share your name or e-mail address with anyone.
Is this website useful to you?
What would you like to see? Send an e-mail (to Sharons@aafane.org) or call (781-444-7778) to let us know.
Donate now! Your $50.00 donation will cover the cost of maintaining this website for a month!
SPONSORS
AAFA New England gratefully acknowledges the generous support of our sponsors.
Additional sponsors for  "Breath of Spring" and Kyle Dine Family Concert are listed on Events pages.
Adult and Pediatric Allergy Physicians
Allergy & Asthma Associates
Allergy & Asthma Center of Massachusetts
Allergy & Asthma Treatment Specialists
Asthma & Allergy Affiliates, Inc.
Astra-Zeneca
The Behrakis Foundation
Boston Children's Hospital – Community Asthma Programs
CSL Boehring
Lincoln Diagnostics, Inc.
Massachusetts Allergy and Asthma Society
Northeast Asthma, Allergy & Immunology
Shire
The Thoracic Foundation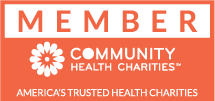 Disclaimer:  The information on this website is for informational and educational purposes only. It should not be used as a substitute for responsible professional care to diagnose and treat specific symptoms. Consult a qualified health care provider for advice about your specific situation.