The Asthma and Allergy Foundation of America, New England Chapter is a non-profit, 501(c)(3) organization dedicated to the control and cure of asthma and allergies. We help people live active, healthy lives with asthma and allergies, including food allergies.
Dr. Pistiner presented the first talk in our Speaker Series in the fall. This coming Wednesday, he will present a "Food Allergy Management Boot Camp" at MassGeneral Hospital's Main Campus.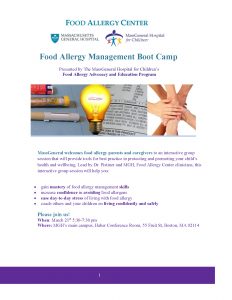 AAFA New England's Speaker Series
Spring 2018
Join us for an informative talk with a delicious twist!

2017 Newsletters (Summer, Fall, Winter)
Get your copy of the Winter 2017 newsletter!
Become a member of AAFA New England and receive your own copy of the Asthma & Allergy Bulletin 3 times a year!  Professional members receive a limited supply of copies to give to patients.
Corporate Sponsors
AAFA New England gratefully acknowledges our generous corporate sponsors.
Disclaimer:  The information on this website is for informational and educational purposes only. It should not be used as a substitute for responsible professional care to diagnose and treat specific symptoms. Consult a qualified health care provider for advice about your specific situation.  Donations received from our generous sponsors for unrestricted support of AAFA New England educational programs do not imply endorsement of their products.