Breath of Spring 2017: May 5, 2017
Don't miss AAFA New England's Annual gala and auction!
Order your tickets today!

Click here to preview AUCTION CATALOG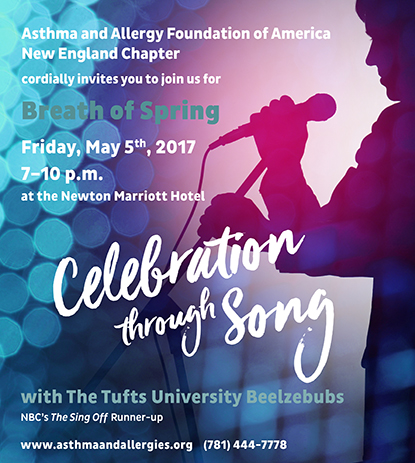 Enjoy an evening of memorable songs, delicious food and beverages, and a fabulous auction.
Click here for ticket and sponsorship orders.
Can your company or medical practice be a sponsor or place an ad in the program book? (click here for details)
Can you donate something for the silent auction? (click here for auction donation form)
Reduced room rate ($159) is available for the event at the Newton Marriott Hotel. Call the hotel at 1-800-228-9290 or make your reservations online here: Group rate for Asthma and Allergy Foundation of America
Please contact us if you can spare some time to help get auction items, make some follow-up phone calls, or have other ideas about how to make our annual fundraiser a success!  
Call Jane at 781-444-7778 or send an e-mail to: aafane@aafane.org.
---
Breath of Spring 2016:
The Annual AAFA New England FUN-raiser on May 6, 2016 was a wonderful evening!
It included a terrific silent auction and a comedy performance by Boston's Improv Asylum.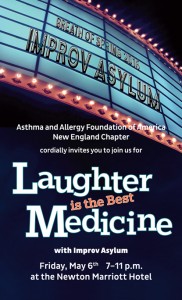 This annual celebration for our friends and supporters makes it possible for AAFA New England to offer educational programs and support groups, advocate for your needs and concerns, and be here when you need us.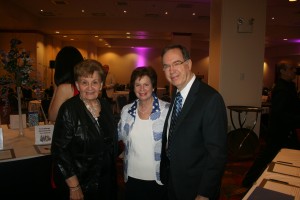 Click here for MORE photos and a complete list of sponsors and donors!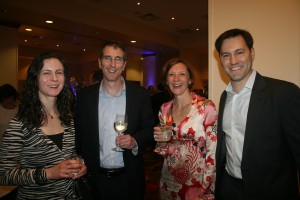 ---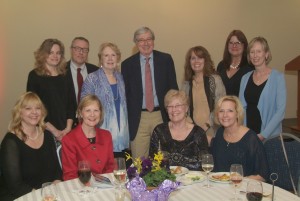 Dr. Frank J. Twarog celebrated with colleagues and members of his office staff.
CLICK HERE FOR MORE PHOTOS and a list of 2015 SPONSORS & DONORS!
The spectacular "Laughter is the Best Medicine" FUN-raiser on May 1, 2015 featured hysterical humorist Loretta LaRoche. There was great food and drinks, and many enticing auction items. 
We  are proud to have honored Frank J. Twarog, MD, PhD, in appreciation for his years of dedicated service as President of AAFA New England. 
---
Memories from Breath of Spring 2014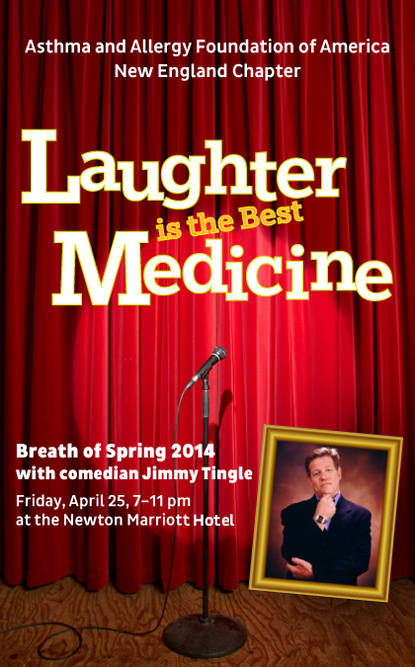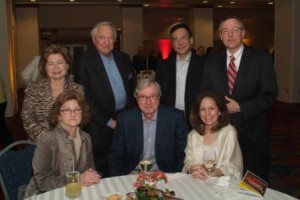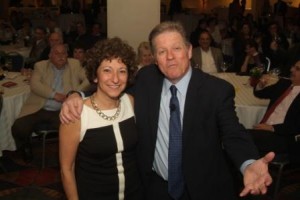 Click here for more photos and a list of sponsors and donors.


AAFA New England's 2013 annual fundraiser featured great food and spirits "tastings" and a fabulous silent auction.
We honored esteemed allergist  Albert E. Sheffer, MD, our distinguished Founding President, in sincere appreciation of his foresight and many years of dedication, support and commitment to our organization, and Massachusetts State Representative Jay Kaufman for his unwavering support and success in advocating for children with life-threatening allergies.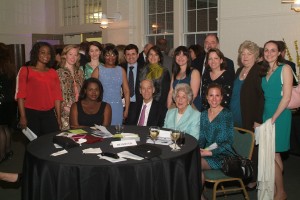 Honoree Albert L. Sheffer, MD and Barbara Sheffer
surrounded by his Brigham & Women's Hospital colleagues.
Click here for more photos and a list of 2013 sponsors and donors.